News broke overnight regarding the social media giant's mismanagement of personal data – a massive oversight considering the network has built its entire business model on the notion of trust and keeping the private information of its 2.2 billion active users safe.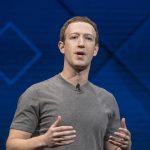 Since 2015, Facebook was aware that data mining company Cambridge Analytica (the same company hired by Donald Trump's election campaign) had illegally obtained the personal data of 50 million of its users. The social network asked the offending company to delete the data. They did not and now the public know about it.
The social network has since suspended the accounts of Cambridge Analytica and its parent company as it investigates how the personal data fell into the wrong hands.
The bottom line? Facebook lost control of an enormous amount of personal data which it had promised to keep safe. This in turn saw the company's stock plummet 7% overnight, wiping US$37 billion from its market value and reducing CEO Mark Zuckerberg's net worth by US$ 5.1 billion.
This is by far the biggest punishment seen by Facebook since in the past, the company simply handled these kind of scandals with a combination of denial and promises to change. Their bottom line meanwhile was never really affected – until now.
Whilst targeted advertising is the future of content, the risks associated with data collection will grow proportionally and Facebook will need to address this as their biggest priority if they're to maintain the trust of its users.
culled from: D'marge