Nigeria's Paystack Set To Take Over Africa, With The Latest $8million Funding
By Agu David (CEO, The Entrepreneur Africa)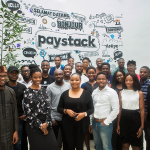 So, have you heard about the latest funding raised by Nigeria's fintech startup, Paystack?
.
It's $8million! And it mostly came from Global fintech giants, Stripe and Visa.
.
According to the company's CEO, Shola Akinlade, "This brings the total investment we've raised to date to a little over
$10
million."
.
Now, guess what? Paystack is just about 2 year old, and the company was founded by two young Nigerian geeks, without any training in finance or institutional backing. Now, two years after, they have tens of thousands of Nigerian businesses on their platform, and with this latest funding, they're set to take on Africa.
.
This will soon be you. Yes, you. Keep up the zeal and enthusiasm, as you pursue that passion, and your angel investor will locate you soon.