By Yinka Adebiyi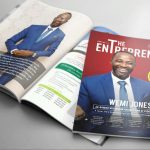 Africa's leading business/entrepreneurship magazine, The Entrepreneur Africa, has unveiled its February 2018 edition, with focus on events/tourism business, investments and business growth guides. The new edition which was released at a press conference in Lagos yesterday, was covered by the events/tourism business maestro, Mr wemi jones (MD/CEO, Dates and Events Ltd).
Titled, Investor's Guide Edition, this edition comes packed with inspiring contents, such as reasons why 2018 is a great year to start a business, guides on where and how to invest this year, etc. the cover personality, while addressing the press during the unveiling, expressed his happiness for being the sole cover for the February edition. When asked why he chose to go into events/tourism business, he said, "like I said in my interview in The Entrepreneur Africa, I wish we were just discovering oil now in Nigeria. Oil has not been a blessing as was thought; it only came to make the country lazy and distract us from pursuing more beneficial potentials. I tell you that if Nigeria, and by extension Africa, had given tourism the attention it deserves, no one would be unemployed here, except they're not willing to work. We have all the natural endowments to make for more money, and create far more jobs, from tourism than oil".
On his part, the Editor of the The Entrepreneur Africa, David Agu, emphasized that the reason why the magazine was established is to preach the message of entrepreneurship, get people to get busy, and reduce unemployment, while celebrating those that have scaled through the hurdles of entrepreneurship, so as to motivate others to work hard to achieve success.
Digital copy of the magazine is FREE and can be downloaded on its website.