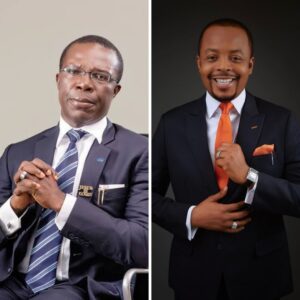 The recent event "Access More With Stanel" which took place in Awka drew the attention of many as a long list of dignitaries were in attendance ready to impart knowledge and empower the youths of this generation.
Amongst the list of accomplished keynote speakers was the CEO of Coscharis Motors, Dr. Cosmas Maduka a visionary leader and philanthropist. During his speech, he took out time to enlighten the youths on principles. In his speech, he spoke on his first encounter with Dr. Stanley Uzochukwu, CEO of Stanel Group.
He spoke on how humility was the first attribute he recognized in their first encounter as the young man who he knew nothing of back then came to his knees seeking words of prayer.
He had never encountered anything like that and soon enough this young stranger drew closer and he saw him as a friend. Not so long after he invited Dr. Stanley Uzochukwu to Lagos state to show him some of his establishments in order to humble him.
Giving him an insight into his business, he gave Dr. Stanley the drive he required. Soon after Dr. Stanley came to him, not in search of money but the right connection as the person who initially supplied him diesel had passed away and he needed a new partnership with First Bank.
Mr. Cosmas Maduka saw this as an opportunity to make an impact in this young man's life and took the opportunity, today he stands bold and confident to say he is proud to call Dr. Stanley a billionaire and also proud to share a part in his success story
In his closing statement, he spoke about making an impact in the lives of people regardless of how little, and encourages everyone to invest in the lives of the youths as they are the future of our dear Nation, Nigeria.