The 65-year-old billionaire holds $55.7 billion in the bank while data points that Nigeria's foreign reserve holds $36.5 billion.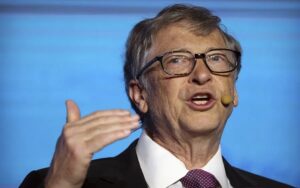 Founder of the world's most valuable software company, Bill Gates, currently has more cash in the bank than Africa's biggest economy, Nigeria.
Data retrieved from Bloomberg showed that the 65-year-old billionaire holds $55.7 billion in the bank, while data retrieved from Nigeria's apex bank points that the leading sub-Sahara economy holds $36.5 billion.
• Bill Gates co-founded Microsoft, the world's biggest software maker, and owns about 1% of the Redmond, Washington-based company.
• The majority of the philanthropist's revenue is derived from Cascade Investment, a holding company that was created with gains from Microsoft stock sales and dividends.
What you should know
Based on an analysis of Bloomberg data, Bill Gates has earned more than $50 billion in stock and dividends, including a $3.3 billion payout from Microsoft in 2004, which he donated to his philanthropic foundation.
He is currently the biggest shareholder of Canada's biggest railroad operator, the Canadian National Railway.
• Bill Gates made his wealth when he simplified the computer operating system by creating Microsoft Windows, the leading operating system in personal computers globally today.
• For many years, Gates had been the world's richest man. He now has a fortune of $134 billion with a 2021 gain of about $2.1 billion.
• Bill Gates's current wealth valuation can presently buy 72.3 million troy ounces or 2.39 billion barrels of crude oil.
Bottomline
For Bill Gates, although the metrics above reveal he holds a significant amount of his wealth in cash, it's important to note he has exposure in real estate, stocks, and collectibles, thus helping his wealth to grow.
• But beyond that, many market experts opine that the rationale behind keeping so many funds in banks amid rising inflation is to fund his philanthropic missions as he donates much of his wealth to causes that help better the world.