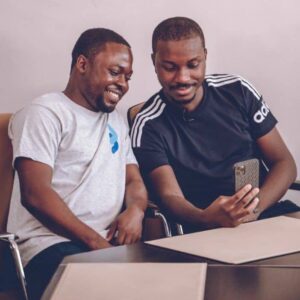 BitSika is a payment app that helps people send money instantly across countries. One of the
fintech contenders for "Cash App of Africa".
You may already know him from his tweets. Atsu Davoh is CEO and founder of BitSika, a tech startup looking to connect Africa financially. The self-professed "only product guy in Africa" is far from your traditional African startup founder though.
Most startup founders try to establish thought-leadership by continually talking up their ideas on social media; Atsu does anything but that.
You're more likely to find him answering anonymous questions on Curious Cat—a third-party app on Twitter, or making not-so-humble brags about his fast-growing startup, BitSika. Bragging can rub off on people the wrong way, especially when you're in a culture that glorifies faux humility and modesty.
But Atsu can also be brutally honest. He's willing to tell things as they are. He has no fancy stories about how he got into the craft. For him, it was curiosity and a drive to be the best that has brought him this far.
When he set down his laptop to code the first lines of what would later become BitSika, he wasn't thinking of making a huge impact on the ecosystem. At that point, all he wanted to do was impress fellow programmers and, if lucky, get some investors to the table. In some sense, it was a side project as he wasn't banking on it being a success.
Atsu only discovered Bitcoin in 2018, after the first bubble that got the world's attention. Before then, he and Samuel Baohen, current COO at BitSika, had built a couple of products that failed. The two of them had been friends since their early teenage years when they attended the same high school.
"I just wanted to build something cool that impressed people and could seduce investors," Atsu said, laughing in an interview with Peace Itimi, a Nigerian Youtuber and marketer.
Bitcoin was the craze in early 2018, and Atsu wanted to play around with it. The first iteration of BitSika allowed people to buy bitcoin using USSD. This was done by mapping mobile money (mo-mo) accounts, that were already linked to phone numbers, to bitcoin wallets. It was one of the first times such an idea would be piloted in Ghana, his home country.
BitSika's investors and pivots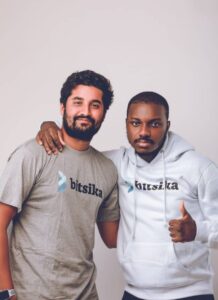 Buying bitcoin with USSD was such a hit that Atsu and his BitSika team (then, just Samuel Baohen) got invited to be part of the second edition of Binance Labs Incubator. The invitation had come at the hands of Yele Bademosi, who was then the Director of Binance Labs.
While at the incubator, Atsu remembers he and his co-founder having an identity crisis. Yes, they had built a USSD-crypto framework, but they didn't know what they were going to do next.
First, they tried using BitSika to collect charity donations. However, they quickly found out that wasn't a sustainable business model.
In Atsu's words, "We were chasing supply, and that's never a good thing. Using BitSika to collect charity donations meant the product would only be used when a person on one end feels charitable. You can't rely on human charity."
Eventually, they would settle on one solution that made sense—an app that uses crypto to solve the challenge of cross-border transactions for middle-class Africans. This solution is the core idea behind the Bitsika we know today.
On graduating from the incubator, Binance Labs invested $150,000 as part of BitSika's seed round. It was a show of faith in the vision and the founders of this young crypto company. Atsu describes that moment as a defining one and the first proper investment that validated what they were building.
The product launch came in September 2019, two months after the incubator programme ended. In December of that year, BitSika would go on to raise around $900,000 from investors. This brought the total seed raise to $1,050,000 and raised BitSika's valuation post-seed to around $6 million.
Alkesh Tharvani, the company's biggest investor to date, led the round. Although an Indian, Alkesh was born and raised in Nigeria, save for his tertiary education.
He had always wanted to own a payment company, so, investing in BitSika was an easy decision.
Outside of his investment, Alkesh has been strategic for BitSika and is very hands-on with the company. He currently occupies the role of Chief Development Officer.
Microtraction, an investment firm coincidentally founded by Yele Bademosi was another investor in BitSika's seed round. That investment made BitSika Microtraction's first investment in a non-Nigerian startup.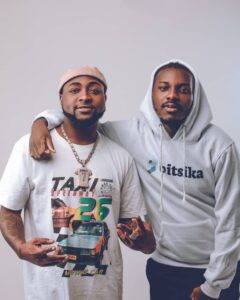 Partnering with Davido
BitSika's announcement of its partnership with Davido shook both the entertainment and technology industries. It was the first time a tech company would be associated with a celebrity act that big.
It started as an expansion of BitSika's use of celebrity influencers to market the product. The company had experienced significant success with John Dumelo and JoeyB in Ghana and thought to reproduce the strategy in Nigeria, Africa's biggest market.
Davido, as at the time of writing, has the most social media followers of any African artiste with over 30 million followers across Facebook, Twitter, and Instagram. Getting Davido on board was a case of "Go big or go home".
What started as an ambassadorial play ended up becoming a partnership. Davido was so interested in the project that he brought himself and his team (DMW) on board as shareholders. He currently occupies the role of Chief Marketing Officer (CMO), and according to Atsu, it isn't a ceremonial role. He and his team actively handle marketing strategy at BitSika and will soon be testing new use cases for BitSika's products.
As regards the immediate impact, that has been clear to see. BitSika provision 10 times their regular servers on the day the partnership was announced. They had initially increased their servers from two to ten (10) in anticipation of the influx of sign-ups from a pre-scheduled giveaway train, but that didn't stop them from crashing. The app went down for about an hour, and they had to upgrade to twenty servers for the duration of the giveaway.
That first day saw Bitsika gain over 20,000 new sign-ups—proof of Davido's impact.
Meeting with Jack Dorsey and potential acquisition by Square
Another pivotal moment that has stood out in Atsu's career was his meeting with Jack Dorsey, founder of Twitter and Square—the parent company of Cash App.
When you're building the "Cash App for Africa" and you're seen communicating with the founder of Cash App, there are bound to be questions.
Atsu doesn't want people to read too much into it, though. They met because of his friends at Square, who hooked him up with Jack during his visit to Ghana. Although the two founders have maintained a good relationship since then, Atsu stopped short of admitting there was something in the works. Square is a publicly-traded company, and any such speculations could cause issues, especially if it's not concrete yet.
However, there may be a lesson to learn from Paystack's acquisition by Stripe. International companies are looking to acquire local companies as part of their expansion plans.
However, there may be a lesson to learn from Paystack's acquisition by Stripe. International companies are looking to acquire local companies as part of their expansion plans.
Square itself acquired Verse Technologies Inc for an amount rumored to be between $33.8 million and $56.3 million in June 2020 to expand its footprint in Europe. If the Silicon Valley-based company ever decides to expand to Africa, one could expect an offer to be made to Bitsika, amongst other fintech startups in the region
BitSika's 2020 Revenue Reports
Atsu released BitSika's revenue numbers in an unusual fashion via Twitter. The move was well-received by the local tech community. The numbers highlight the progress that the company has made in just over a year since they began operations.
Between January 1, 2020 and December 31,2020, BitSika processed about $40 million from close to 269,000 transactions. The company also recorded revenue of over $1 million from transaction fees. Atsu says the company is technically profitable at the moment.
In 2019, the BitSika processed just around $975,000 and took in only $329 in fees from users. 2020's figures represent nearly 4000% growth in transactions processed and  a remarkable 312,235% growth in revenue. It should, however, be taken into context that the startup was only active during the last quarter of 2019.
What should we expect from BitSika in 2021?
Although Atsu typically prefers to keep his cards close to his chest, he has offered some insight into what to expect in 2021
The company will be looking to raise Series A funding during the year. The goal of this would be to expand its services. The startup already has a significant presence in six (6) African countries, including Nigeria, Ghana, Cote d'Ivoire, Mali, Kenya, and Uganda. It is currently looking to obtain licenses for those countries and expand its services to more countries.
BitSika will also be piloting a B2B product as it looks to tap into the intra-African trade market. B2B might provide an interesting use case for BitSika as it is an arguably bigger market than informal money transactions. It might also create an opening to capture some of the informal business transactions that happen across borders within Africa.
With all of these in sight, BitSika has definitely moved from side project to main job for Atsu. Although he has been mulling over a new social media product—Ear1, BitSika remains the golden child—the multimillion-dollar startup no one saw coming, not even the founder.