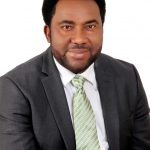 GET INSPIRED
NnamdiEzeigbo, the Founder/CEO of SLOT Systems Ltd, is inspiring as well as successful. Of course it's not news that in today's Nigeria SLOT is to the mobile phones industry what Amazon is to Ecommerce in America. But what you probably didn't know was that this smart phone giant and pioneer, which you find in every neighbourhood in major cities nationwide, started with zero capital. Well…maybe not exactly zero capital, for as Mr. Ezeigbo would say, "Courage was my first capital". And lest we forget, he also co-founded the two fastest selling smart phone brands in Sub-Saharan Africa, TECNO and Infinix.Now we present you the following inspiring words from the horse's mouth, an excerpt from Mr. Ezeigbo's presentation at a leadership and Entrepreneurship program at University of Lagos recently. Get inspired!
"I schooled both at Yabatech and Lagos State University, where I studied Electrical Electronics Engineering and Computer and Electronics Engineering, respectively. Then after Youth Service I wanted to work in an oil company. But spent two years trying to get the kind of job I wanted without success. That was when I decided instead to venture into entrepreneurship. My first stepwas to undergo some months of apprenticeship training in tech business, as that was where my passion lay. Entrepreneurship requires passion, first and foremost. But capacity is also very important. For instance, a 6-ft-tall person who has passion for basketball can very well become a successful professional basketball player. This is because he has the capacity. So, for me, I looked inwards and knew I had the capacity to go into ICT business because of my educational background and the relevant apprenticeship I had undergone.
Now courage is very crucial. Courage was my first capital. Next I started by giving service. If you want to start a business and you don't have start-up capital, then you can actually start by finding out a way to render service first. And for an emerging entrepreneur, building relationships is everything. So, build and nourish relationships.
I started SLOT by working as a computer engineer, attaching with a friend in a small shop. To my customers then, I proved to be very competent at what I did, so I was able to maintain good relationships with them through my work and my attitude. So to be a good entrepreneur, you need three assets, namely: Capability, Strategy, and capital. You should have vision, but must back it up with great strategies.
Again, to do well in the field of you need to create a platform or platforms that that solve problems for the society. That was what we did with the TECNO brand by introducing dual Sim Card phones, after which others followed.
I started SLOT with nothing. But I built on relationships. The guy in whose shop I attached myself for the first six months of my business was actually my classmate. And when I finally got my own shop, the man who helped me get it was also my customer whose issues I had handled well. I eventually bought that building where I rented the SLOT shop, for N100million. Now SLOT has 60 shops nationwide, and 700 employees. Overall, always act quickly when the ideas come. Avoid delays."