Providus Bank has deactivated the virtual account numbers of Monnify and PiggyVest.
Monnify revealed on its social media platform that it received official communication from Providus Bank that it would no longer be supporting virtual account service with immediate effect.
"Yesterday, we received official communication from our partner – Providus Bank that they would no longer be supporting the virtual accounts service with immediate effect.
"We would ask that you don't panic and be rest assured that you would be able to access all your funds, as we are currently working with the bank to reconcile the funds in their position for availability and graceful exit," Monnify tweeted.
Even though the bank did not state the reason for deactivating the virtual accounts, it is believed it may not be unconnected to the recent directive by the CBN prohibiting financial institutions from facilitating crypto-related transactions through the banking system.
Virtual account numbers have been used by fintech companies like Piggyvest, Risevest, Cowrywise Abeg app, and others for the last 3 years. The virtual account numbers are used to ensure that their customers can efficiently fund their wallets via bank transfers using the likes of USSD, Internet banking, and other bank transfer channels instead of depending on debit cards.
Providus Bank's decision to no longer support virtual accounts has left users in a state of uncertainty, especially after the bank gave no clear reason.
Monnify has however promised to partner with another bank to restore the service back to the organizations that use its service.
On its part, PiggyVest, another fintech payment platform that helps in managing the finances of businesses and individuals has already assigned new virtual account numbers to its users using Wema bank as their new partner.
It notified its customers via its Twitter handle, stating, "We've received communication from our Virtual Account Provider (Providus Bank) that the existing virtual accounts are currently inactive.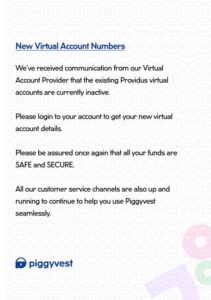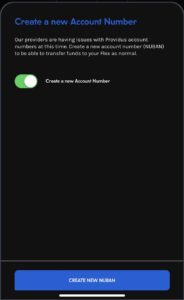 "Please log in to your account to get your new virtual account details"
Other fintechs are subsequently expected to react this week.
The development has since sparked mixed reactions on Twitter.