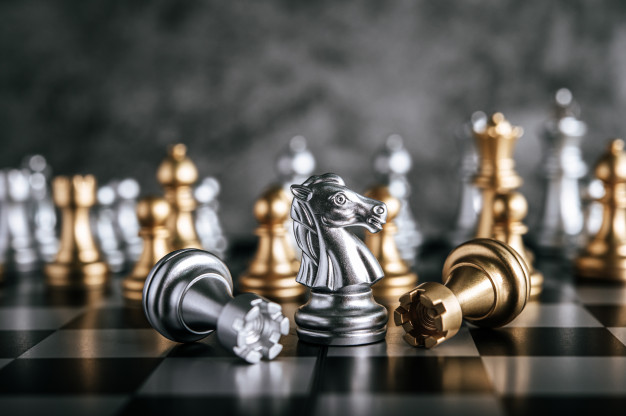 Success can only be achieved when you run your business on your own terms and not fall prey to the temptation of chasing after your rivals in your industry.
The old adage, "If you're not first, you're last," couldn't be further from the truth when it comes to business success. Being first-to-market may have its advantages, but long-term success is not a race – it's how you make a product or service better than that of your competitors. And "Better" can mean anything from the product or service itself to customer service, pricing, or marketing strategy.
"Without a robust and resilient innovation strategy, no company can survive," says Phil McKinney, CEO of CableLabs. In just about every industry and just about every career, the creator of the Purple Cow enjoys the profits, the accolades, and the feeling of omniscience that comes with a success. So how do you stay ahead of your competitors and ensure that you are successful?
Stop trying to copy the business model of your rivals
You will only achieve success if you run your business on your own terms, and not fall prey to chasing after rivals in your industry. As soon as you stop following your own path and start copying your competitors, you could find yourself even further behind than when you started. You have your own unique strategies, resources, and capabilities so you need to stay true to your business model that optimizes them in the best possible way.
Make innovation your best friend
Being a small business owner means always finding novel ways to enhance your business. The companies that fail are the ones that become stagnant, relying on methods that can become outdated. Eventually, as their competition becomes more efficient, they leave these businesses behind. Don't let that happen to you. Use the tips in this article to ensure that you remain ahead of your competitors.

Expand your offers – a market that's already crowded has less scope for expansion. It is essential to offer something unique to your customers in order to build your own niche and minimize the existing competition.
Be the best employer
Skilled, motivated employees underpin vibrant, growing businesses. Attracting them means more than paying a competitive wage. People are often more impressed by a good working atmosphere, and benefits such as flexible working and structured career development.
Identify and solve the pain points of your customers
Ask open-ended questions to find exactly what your customers want while using your products or services. The key here is to provide solutions to the prospects and supply them what they need as opposed to selling them what you want to sell. You only need to fulfil the need, not "sell" anything. Your product or service will automatically start to sell more the moment you fill the void that your competitors are lacking.
Get the pricing correct
Perfect pricing strategy revolves around marketing psychology. Before you set your own pricing strategy, it is essential to know the competition. You must identify who is offering the best value for money. The price you set should be standard and must have a competitive advantage. A great pricing strategy does not always mean lowering the prices of existing products in order to win more customers. Every market is divided into three segments – the lower, middle and upper class. The first step is to identify the class you are targeting. Once you get an answer to that, it will be much easier to set a price that your audiences will love to pay.
Improve your customer service
People love businesses that provide exceptional customer service. If you delight your customers with great service, you will make loyal customers who will refer your business to their family and friends. Hire staff who have a good understanding of your products or services. Ensure that they remain patient and provide satisfying answers to every customer query. Your staff should greet customers with a pleasing smile and must show gratitude. Your customer care team should always remain courteous and respectful.
They must always be responsive to customer queries. They should have a problem-solving approach and always ask for customer feedback. Customer-centric companies are powered by dependable staff who raise the level of customer satisfaction. You can also consider offering freebies that competitors don't.
Target new customers
Retaining your customer will help you build a loyal consumer base. However, if you want to grow your business, you'll need to attract new customers. In this rapidly changing economy, you may wake up one day only to find that your so-called loyal consumer base is busy shopping elsewhere. There is no guarantee that they will keep coming back for more forever. A steady flow of customers will keep your business healthy.
More favourable opening hours
Whether you go 24/7 or just open Saturdays when your rivals are shut, making a customer's life more convenient and shaping your business around their lifestyle is guaranteed to bring them through the doors, and this is a vital part of building competitive strategy.
Show your personality
There is true value that comes from turning the customer experience into a personal one. When people are able to put a face to the business, it naturally leads them to form an emotional connection that simply doesn't happen when they walk into a big retail store. Share your business story. Discuss why you got into the business in the first place. Talk about why your service is unique. In short, reinforce the emotional side of things and you'll see how your customers will begin to feel a real connection to your business.
Conclusion
Healthy competition is always good as it keeps pushing you to do better. Therefore, you should not shy away from competing. Nevertheless, you should arm yourself with the best of tools that can help you in staying ahead. Business is a never-ending battle that makes you learn new things each day. You must be ready to face any challenges or situations.