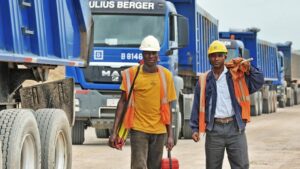 Julius Berger Nigeria Plc, a planning and constructing a group of companies with a market capitalization of more than ₦30 billion, involving in all kinds of civil engineering works with seven subsidiaries, released its Consolidated Unaudited Financial Statements the year ended 31st December 2020 to the investing public on January 26th, 2021.
– From the released result, the firm saw an 8.35% decrease in revenue from ₦264.56bn in FY'2019 to ₦242.46bn in FY'2020. This was driven by an 8.35% decrease in the revenues from their primary geographical market (Nigeria, Europe, and Asia).
– Also, the civil works, building works, and services rendered at the firm dipped by 9.68%, 9.29%, and 4.28% respectively, as this could be the effect of Covid-19 pandemic lockdown that truncated the many capital projects.
– The Group in its Other Gains and Losses reduced by 35.34% due to the decrease in the Foreign Exchange Gains to N2.55 billion in FY'2020 from N1.88 billion. Also, the Group saw a 25.55% increase in its Net Finance Cost to N7.39 billion in FY'2020 as against N5.90 billion in the prior year of 2019.
However, there were reductions in some key line expenses, such as; Administrative Expenses (from N37.03 billion to N29.99 billion) and Impairment Loss on Trade and Tax Receivables (from a loss of N2.97 billion to a gain of N713.78 million).
– Despite the reduction in some key expenses as mentioned above, the Group's Profit Before Tax (PBT) finally reduces by 71.92% from (₦14.68bn to ₦4.12bn) and Profit After Tax (PAT) also shrinks by 86.83% (from ₦10.34bn to ₦1.36bn).
– Furthermore, the firms' Return on Asset (ROA) and Return on Equity (ROE) both declined to 0.004x and 0.03x from 0.03x and 0.24x in the corresponding period of 2019.
– Conclusively, the investors' Earnings per Share (EPS) decreased by 16.26% to print at ₦4.79 in the year under review as against ₦5.72 at the previous year.
As a buffer against hard times, Julius Berger said in September it would branch out into agro-processing, venturing into a subsector starkly different from its primary construction business in a move the board remarked had been informed by "the emerging developments, political, economical and structural in Nigeria and the resultant reforms by the governments.
The management stated,
"We have severally advised the Market that Julius Berger will be looking into diversification opportunities, based on the emerging developments, political, economical and structural in Nigeria and the resultant reforms by the Governments.
We would advise the Exchange and the Capital Market that the Board of Julius Berger at its meeting held on September 22, 2020, approved a diversification opportunity for the Company in Agro-processing."