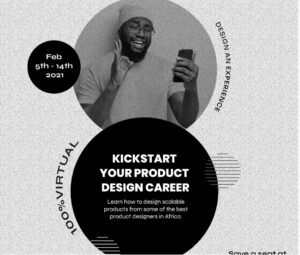 Treford Group, an edtech startup that aims to empower youths with digital skills, is set to hold its first product design bootcamp.
The bootcamp is scheduled for the 5th to 14th of February 2021. It will be an avenue to groom the next set of product designers who will be instrumental in building and designing scalable products valuable to the global market.
Speaking on the boot camp, Harry Enaholo, CEO and Co-founder of Treford said, "the African tech space is steadily advancing with certain roles becoming more relevant with each passing day and one of such is product design.
Now more than ever, organizations are paying attention to not just functionality but also user experience and retention.
Hence, our aim as an edtech startup is to create structured learning based on our experience of the African tech space in collaboration with the brightest minds in product and user experience design in Africa. By doing this, we believe we will be able to serve product design enthusiasts and help boost or jumpstart their design career."
Treford is partnering Figma, the world's best for collaborative interface design to make this bootcamp a possibility. The partnership will grant eligible participants full access to Figma Pro during and after the bootcamp.
At the bootcamp, participants will;
Learn from the best product designers from Africa's biggest tech companies.
Design a product along with other design enthusiasts
Engage in Interactive virtual classes.
Get practical career tips from experienced product designers
Get full access to premium design tools.
The facilitators of the boot camp are;
Oluwafemi Omoniyi; Tech Lead at TR1PP
Aluko Brown;Product designer at Quidax
Oluwadamilola Soyombo; UI/UX designer and founder TCKZone
Adenike Afonja; Product Designer and Front-end Developer ateTranzact UK
Jaykay Kayode; Product Designer atTangerine Life
Praise Oyelaran;  Product Designer at Payloader
Damilola Oludunmila; User Researcher at Webflow
Chidinma Nwogbo;  Product Designer at Paystack
Olawale Samuel; Product Designer at Treford
Theophilus Fredrick;  Product Designer at Gidi Mobile
Osamudiamen Imasuen; Product Designer at Printivo.com
The bootcamp is open to those looking to build a career in product design, graphics designers looking to transition, and, design and product enthusiasts.