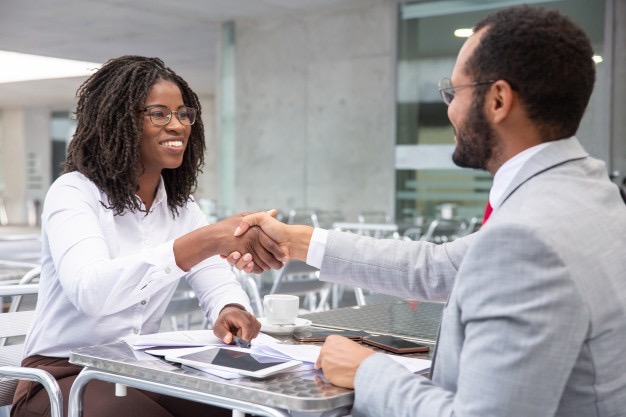 Ever thought of creative ways to turn small talk into a winning pitch? Whether you are trying to raise money from angel investors or venture capitalists for your business, or just want to perfect your business strategy, a solid elevator pitch is an essential tool for achieving your goals. Small talk that describes your business in a nutshell can be delivered as a speech, a pitch presentation or one-page overview of your business.
So wherever you find yourself it is important to always be ready to communicate and market your brand by providing a quick overview of your business.
Below are some ways to turn small talk into a winning pitch:
Define the problem
The most essential thing is to be able to identify what problem your product or service solves. If your product or service doesn't solve a problem that potential customers have, you don't have a viable business model. Simple as that.
To create a winning pitch it is important that you try and distill your customer's problem down to its simplest form. You should be able to describe the problem you are solving in two sentences, you company may solve multiple problems but it would be more effective if you could just focus on one core problem.
Describe your solution
Too many entrepreneurs start their elevator pitch by describing their solution: a product or service that they think the market needs. They skip number 1 and don't identify the problem they are solving. As a smart entrepreneur you can first ensure to state the problem your business solves before you define your solution. A clear problem statement will help you focus your solution on solving that one problem and not stretch the solution to solve multiple problems. Describe your solution at high level in just few sentences.
Describe your target market
Ensure to include a brief description of your target audience into your winning pitch. Explain exactly who has the problem you are solving.
Describe the competition
Every business has a competition. Even if no one has come up with a solution similar to what you have come up with, potential customers are solving the problem they have with some alternative.
Share who's on your team
As great as your idea is, only the right team will be able to effectively execute and build a great company.
In the "team" portion of your elevator pitch, you should talk about why you and your business partners are the right team to execute your vision, and why your team's skill set is precisely what is needed to lead your company to success. People often say that a company's leadership team is more important than the idea—and this is often true. No matter how great or unique your solution is, if you don't have the right people on board, you won't be able to see it to fruition.
It's also O.K. to not have an entire team in place. It's more important to understand that you have gaps in your management team and that you need to hire the right people. Knowing what your team is missing and recognizing that you need to find the right talent to fill the gaps is an important trait in any entrepreneur.
Include a financial summary
For a great pitch, you don't necessarily have to show a detailed five year financial forecast.  But however, it is important that you understand your business model. If you understand your business model then you would be able to figure out all expenses. But, for your elevator pitch you won't have to include a detailed forecast.
Show traction with milestones
The final step of turning small talk to a winning pitch is to be able to convey your business milestones or schedule.
At this part, you talk about your upcoming goals and objectives and when you plan to achieve them. If you have already accomplished notable milestones, you should mention those. Talking about upcoming milestones also makes your pitch realistic. This section of the pitch illustrates how well you have thought the detailed steps to open your business or start a project to start making money.
As an entrepreneur, it is important to also keep these important points at the back of your mind so that the next time you are at a dinner party and someone asks you, "So what do you do?" you can answer in one sentence so that they understand your company.
Being able to summarize what your company does into one simple sentence is incredibly valuable. It helps you, as an entrepreneur to focus on the reason for your business and its objectives. This is exactly how to turn small talk into a winning pitch.