From a humble start, Mike Adenuga has become one of Nigeria's most successful entrepreneurs whose impact is being felt across the continent.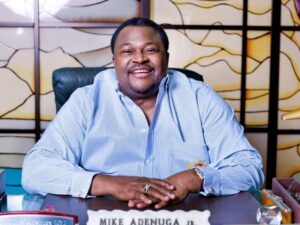 The axiom goes that "life begins at 40", but for Mike Adenuga, the CEO of Globacom, who became a millionaire at the young age of 26, life began in his 20s. Today, he is one of Africa's richest and holds business interests across several sectors of the economy and in various countries on the continent.
Early life
Michael Adeniyi Agbolade Ishola Adenuga was born on the 29th of April, 1953 to the family of Oloye Michael Agbolade Adenuga Snr. and Omoba Juliana Oyindamola Adenuga.
He schooled at Ibadan Grammar School and obtained his Higher School Certificate from the Comprehensive High School Aiyetoro, before travelling out for his higher education.
He got his first degree in Business Administration from North Western Oklahoma State University and his MBA from Pace University, New York.
Notwithstanding, Adenuga fondly attributes his business sense to his mother, who was also a businesswoman. Even as a student, the young Adenuga did not have things easy, and even had to hustle as a taxi driver in New York to pay for his university tuition. He also sold drinks and lace materials at one time, doing whatever business he could to raise money.
Fate smiled on him, and thanks to his numerous hustles, he made his first million in 1979 at the age of 26, and has not stopped since then. He went on to start and invest in several businesses over the years, growing his wealth to become one of the richest men in Africa.
Conoil
Adenuga saw the potentials of the booming oil industry in Nigeria and started applying for a license in the late '80s.
However, he did not get one until a new policy was made by Professor Jubril Aminu, the Oil Minister during General Ibrahim Babangida's regime, allowing individuals to venture into oil exploitation and exploration.
He obtained the drilling license in 1990 and started exploration with his new company, Consolidated Oil, in Ondo state.
Globacom
By the end of the 90s, as the nation returned to the democratic dispensation, Adenuga saw another potential in the telecommunication industry and acquired a conditional GSM license from the Federal Government in 1999.
After it was revoked, he obtained a second one in 2004, when the government held another auction. He used this license to found Globacom in Nigeria, which has now grown into other African countries like Benin republic, Ghana, and Côte d'Ivoire, with millions of subscribers.
The telecom company is considered a major competitor to the giant MTN group, and is still prospecting licenses in other West African countries.
In May 2015, Mike Adenuga made a takeover bid and acquired the Ivorian mobile telecoms operator "Comium" in Cote d'Ivoire for $600m.
Debts and scandals
In 2006, the Economic and Financial Crimes Commission raided the head offices of Globacom, Equitorial Trust Bank (ETB), and Conoil, and invited Mike Adenuga for questioning about a case of money laundering. Subsequently, he was implicated and detained for money laundering.
He later left the country and went to live in London for a while until late President Umaru Musa Yar'Adua's regime granted him a pardon, making it possible for him to return home to Nigeria.
In June 2016, it came to the limelight that Mike Adenuga was being pursued for a combined debt of over $140.5 million by two foreign and one local company. It was reported in the news that his company Conoil had failed to pay debts owed to multiple creditors including the French oil giant, Total.
Another company owned by Adenuga, Bellbop, had an interim injunction placed on it by the High Court in Lagos, after it also failed to pay the $9.4 million owed to the US oil and gas firm, Baker Hughes. It was reported that some of the creditors had been hit so hard by the huge debts, that they had to shut down some of their operations.
A local oil servicing company, Depthwize, for instance, had been forced to lay off workers and shut down services on two of Conoil's rigs, saying the debt of $40 million had incapacitated the company to the point that it could no longer afford the day to day running cost of working on the rigs.
Coming a short while after the business mogul increased his net worth by almost $5 billion, the scandal of course attracted a lot of criticisms.
Recognitions
Mike Adenuga carries out his philanthropic activities through the Mike Adenuga Foundation, helping people in Nigeria and other African countries.
He has received several recognitions including the African Entrepreneur of The Year at ATA in August 2007, Grand Commander Of The Order of Niger (GCON) in 2012, Companion of the Star of Ghana (CSG) in 2018, and was listed among the 100 distinguished and Eminent Nigerians Centenary Awards in 2018, amongst others.
In 2018, he was decorated with the insignia of a Commander of the Legion of Honor by President Emmanuel Macron of France.
He also holds a Yoruba Chieftaincy as the Otunba Apesin of the Ijebu clan. He owns stakes in different companies in Nigeria including Stanbic IBTC Bank and Sterling Bank.
According to Forbes recent rating, Mike Adenuga is currently worth $ 6.2billion.