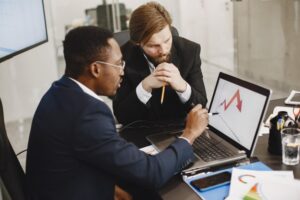 Getting an 8 figure job in 2021 is not a walk in the park but here's your perfect guide to make it one.
The highly anticipated 2021 is here and running its course already. After a tumultuous 2020, which saw many people around the world loose their job or had their salary slashed; there would be a lot of job hunting in the days to come.
With the unemployment rate put at 27.1% in Q2 2020, you can be sure that the vacancy space will be filled with intense competition. However, there is a space where few play – at the 8 figure salary level.
It's somewhat like a tradition to write down what you aim to achieve in a new year; but in reality, the playing field becomes uneven when it comes to achieving them.
Our jobs are a significant part of our lives and most times, our life goals revolve around them. We all work to earn the best that we can so as to live our best life.
Landing an 8 Figure Job in 2021
Making a giant leap into earning such an amount is not easy. To start with, if you do not have a good amount of experience, don't expect a miracle to happen. You have to start small, especially if you intend to hack the corporate world rather than entrepreneurship.
Strategically gather experience that would qualify you for an 8 figure job. No employer will employ a professional with zero years of experience and pay him or her 8 figures.
Which jobs pay 8 figure salaries?
Jobs that pay 8 figure salary are mainly managerial level positions (CEO, CTO, COO, etc). Rarely would you get a minimal experience job with a salary that high. That being said, a few of the highest-paid professions include the following:
1. Petroleum Engineering: Oil is one of the most profitable industries worldwide and the most profitable in a country like Nigeria. Some professionals who work in the oil industry comfortably earn 8 figures, especially those offshore who are generally petroleum engineers.
2. Surgery: It's no secret that surgeons are highly paid. This is due to their specialty in certain areas of medicine.
3. Law: Quite a number of experienced lawyers earn 8 figures; however, it depends on the organisation and position.
4. Programming: With the country and the whole world going digital, programmers' importance and demand are extremely high. They are also paid good money for it. Just like the new saying goes, "tech is the new oil."
5. Other high-paying professions include, but are not limited to, Chartered Accountancy, Airline Companies (Pilot), Civil Engineering, etc.
How to land an 8 figure job in 2021
If you intend landing an 8 figure job in 2021, then you must fit the necessary criteria:
• Get a bachelor's degree.
• Postgraduate and professional certifications to boost your chances.
• A wealth of experience and knowledge in the industry and specific job role.
How to position for an 8 figure job in 2021
1. Start by establishing yourself as an expert in your field: People don't buy products, they buy brands. The same rules apply to seeking a job. Build your brand and market yourself as an expert in your industry. Create a niche for yourself and have a voice in your field. You can do this by speaking at conferences, making posts on social media or job sites like Linked-in, owning a blog, or writing a book, and picking up freelance jobs. Doing this would help you gain exposure and recognition to top recruiters and head hunters. Also, your brand perception would mean that they would consider you for managerial positions. Recruiters always want the best and most prominent or well heard of, at the very top managerial positions.
2. Expand your skillset actively: The trick about landing an 8 figure job is that you must be ready when it comes, because such opportunities don't come often. Start now, prepare like you are already in contention for the job. If you have a superior, walk up to him and ask to learn more about your field. Request permission to tag along on new projects, and don't be afraid to take on new challenges.
3. Develop leadership skills: At the very top, although your expertise is important, something that is arguably valued more is your leadership skills. This is because you'd not be doing a majority of the groundwork but rather managing those doing it. Hone your skills by mentoring entry-level employees or lead a training seminar. Also, take up positions in professional associations or non-profit organizations outside your workplace.
4. Set your precise goals: Before you start looking out for opportunities, create a detailed list of prospective places you will like to work at and actually earn 8 figures. You can also do extensive research on the company to ascertain their ability to pay what you desire.
5. Go out there and take risks: If it fits your billing and you want it, go for it. It is essential that you go outside your comfort zone and even apply for jobs that might be a step higher. Do not focus on your shortcomings, but rather look at what you bring to the table. Know how you can add value to the company and show them you are a problem solver.
Bottom line
Getting an 8 figure job is not a straightforward path and it requires intentional efforts to put yourself in the best position for it. Despite how much of a stretch it seems, it is not impossible. As long as you are willing to develop yourself and grow to what they expect of you, be sure to get a call sooner or later.