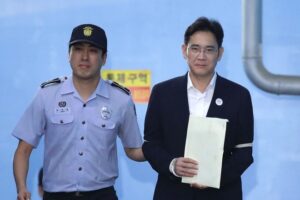 A big lesson for Africa: the leader of Samsung is going to jail in South Korea. Simply, even though you may run the largest company in the land, and employ the largest number of people, and pay the highest pile of tax, you must still have to obey the laws of the land. Yes, no one is above the law, even the heir to the Samsung Group empire.
Samsung heir Lee Jae-young has returned to prison for charges related to bribing South Korea's former president. The development has deep implications for "one of the world's largest business empires" based in Seoul, per The New York Times, and leaves Samsung without a leader. Lee has served as the company's de facto leader since his father's death in 2020. The new sentence concludes a long-running saga — Lee was first sentenced in 2017, serving a year before being released after the sentence was halved. The case has been fought in courts since.
Not in place where the police officers are quick to prostrate for criminals and answer them 'sir', countless times, while providing intimidating security details to the same gang of buffoons, all in the name of being rich.
Then you have judges who are morally warped and ethically challenged, the bigger the bribe, the softer and more confused they become, when it comes to sound judgement. The judges are compromised, so cannot administer justice, moral badness and justice are mutually exclusive, so no hope there.
The lawyers? Theirs is well documented, even when they earn billions, they still look pitiful, always ready to bribe the judges, of course when you can purchase the title of SAN, what else is remaining? It's finished then.
Let's not go there, everything about the judiciary stinks, no excuses; just pathetic.
They still find ways to release the funny creatures they managed to jail, and their gang in National Assembly welcome them back with fanfare, while maintaining their salaries.
Nothing to learn from South Korea and Samsung, until we start producing breeds good enough to govern a nation, for now the quality is too poor.