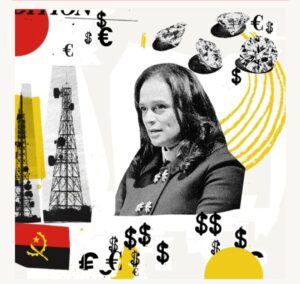 The daughter of Angola's longtime former president accumulated riches through embezzlement and money laundering, an Angolan court claims. To recover what was looted, the government froze her assets. Then Portuguese authorities followed suit.
Eight years ago, Forbes declared Isabel dos Santos the richest woman in Africa, worth an estimated $3.5 billion. The daughter of Angola's longtime former president grew immensely wealthy in a textbook case of how to loot a country. Now, with her father out of office, her empire is a shadow of what it once was, with corruption charges levied against her by her country, assets frozen by courts in three different nations and a lawsuit claiming hundreds of millions of dollars in unpaid debt in a fourth country.
Forbes assumes she has no access and likely no chance to gain back control of the frozen assets—together worth about $1.6 billion if not frozen—so we give her no value for them and by our calculations she is no longer a billionaire. As a result, Forbes has dropped Dos Santos, who was worth an estimated $2.2 billion in January 2020, from our newly released 2021 list of Africa's richest people.
The onetime African "princess" is by no means a pauper. She's reported to have a home on a private island in Dubai, another residence in London and a $35 million yacht. She likely has bank accounts and assets that Forbes and legal authorities have yet to track. She is said to be splitting her time between Dubai—where her husband, Sindika Dokolo, died in a diving accident in October—and London, where Dokolo's funeral was held in November at Westminster Cathedral. Through a spokesperson Dos Santos declined to comment.
The Road To Riches
As Forbes spelled out in an August 2013 article (co-written and reported by Angolan journalist Rafael Marques de Morais), Isabel dos Santos is the eldest daughter of former Angolan President Jose Eduardo dos Santos, who ruled the country from 1979 to 2017. While he ran the poverty-stricken but oil-rich country, she garnered significant stakes in Angola's strategic industries—banking, cement, diamonds and telecom—making her the most influential businessperson in her homeland. More than half of her assets were stakes in Portuguese companies, adding international credibility. (Angola, a former Portuguese colony, achieved independence in 1975.) When Forbes outed her as a billionaire in January 2013, the government disseminated the news as a matter of national pride, living proof that the country had arrived.
As best we could trace, every major Angolan investment held by Dos Santos stemmed either from taking a chunk of a company that wanted to do business in the country or from a stroke of the president's pen that cut her into the action. Her story was a rare window into the tragic kleptocratic narrative that grips resource-rich countries around the world.
In Portugal, the companies Dos Santos invested in—several banks, a cable TV company and an engineering firm—turned a blind eye to the questionable source of her investment funds, says Ana Gomes, a former member of the European Parliament and a member of Portugal's Socialist Party (and currently a candidate for president in Portugal). "When she bought stakes in banks in Portugal . . . I kept saying, 'What is the origin of the money? Why are you allowing her to launder money through our system?'" laments Gomes, who filed details of the alleged money laundering with Portuguese judicial authorities starting in 2016. No action was taken in response.
In early 2020 Dos Santos sued Gomes for defamation in a Portuguese court. She took issue with Gomes tweeting and going on TV saying that Dos Santos' bank was a money laundering machine for her. Dos Santos lost the case, but her lawyers have appealed the ruling.
The Empire Begins To Crumble
Dos Santos' empire began to unravel under the leadership of Angola's new president, João Lourenço, who took office in September 2017 after Dos Santos' father retired. Lourenço vowed to attack the corruption for which Angola had become well-known. (Transparency International ranked the country as one of the most corrupt in the world.) Two months into his tenure he dismissed Dos Santos as the head of state oil firm Sonangol, a position to which her father's government had named her in June 2016.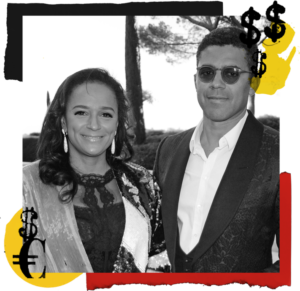 But the bigger move came in December 2019. As part of a corruption investigation, an Angolan court froze assets in the country that belonged to Dos Santos and her husband—including a stake in mobile telecom firm Unitel and in several banks. The court order stated that Exem Energy BV, an entity owned by Dos Santos and Dokolo, had promised to repay at least $75 million it owes to Sonangol, but had failed to do so. The court also claimed that the couple and one of their business associates had caused the Angolan government to lose at least $1.1 billion.
In January 2020 Angola's attorney general charged Dos Santos and Dokolo with embezzlement and money laundering. At the time, Dos Santos issued a statement saying that the allegations against her were "extremely misleading and untrue" and that she had been a "private businesswoman" who had "always operated within the law."
That same month, a flood of details about Dos Santos and her assets became public through the Luanda Leaks, a collection of more than 700,000 documents obtained by the International Consortium of Investigative Journalists. It confirmed the reporting Forbes did in 2013 about Dos Santos corruptly obtaining stakes in Angolan companies. Luanda Leaks also shined a light on her enablers: consulting and accounting firms like McKinsey and PwC, as well as a coterie of bankers and lawyers who helped Dos Santos obtain her fortune and move it offshore. In a December 2020 statement, PwC said that when the allegations came to light it "took immediate steps to end our relationship with companies involved" and that some senior employees left the firm or were subject to "other remedial measures." A spokesman for McKinsey says the firm no longer counts Dos Santos or her companies as clients. So far, none of the professional service firms have been charged with any wrongdoing, though last year a Portuguese regulator did investigate auditing firms that worked with Dos Santos and reportedly found that some had not taken steps to stop possible money laundering.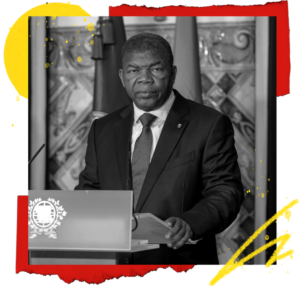 Dos Santos has also done business with Forbes Media, owner of Forbes magazine and Forbes.com. Her Angola-based company Zap Midia is the licensee holder for Forbes Angola and Forbes Portugal magazines. Zap Midia is listed in the Angolan court filing as one of the companies whose assets were to be frozen.
One particularly galling revelation in Luanda Leaks: Documents from 2006 that showed Dos Santos' husband paid Sonangol just $15 million (€11 million) for a stake in Portuguese oil firm Galp that was worth $99 million (€75 million). The balance of the purchase was essentially an interest-free loan from the Angolan government. That stake in Galp, held through Netherlands-registered entity Exem Energy BV, is currently worth about $550 million. But those shares have been frozen by a court in the Netherlands according to ICIJ.
Dos Santos is far from the only person in her circle who got rich off the state. Corruption runs deep in the Angolan political elite. "Some of the biggest crooks seem to have made a gentleman's agreement with [Angolan President] Lourenço and are being let off the hook," says Ricardo Soares de Oliveira, a professor of African politics at the University of Oxford. He notes that in the past six months, Lourenço has expanded the anticorruption fight to include more figures than just the Dos Santos family.
Freeze-Out
A court in Angola made the first move. Then courts in other countries froze assets that belong to Isabel dos Santos and her husband.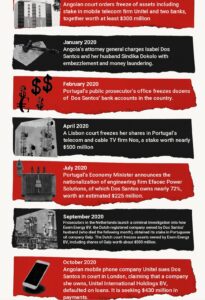 Authorities in Portugal have also taken steps to recover assets owned by Dos Santos. In July the government went to the extreme of nationalizing Efacec, an engineering firm majority owned by Dos Santos, reportedly out of concern for the company's survival. In April, a Portuguese court froze her roughly $500 million holding in cable TV and broadband firm Nos.
Her investment in Nos shows just how welcomed Dos Santos was by Portugal's business elite: she held the shares through ZOPT, a partnership with the family of Belmiro de Azevedo, a respected Portuguese billionaire who died in 2017. The shareholders of ZOPT are in the process of dissolving the partnership, according to a spokesperson for Nos.
Dos Santos is also being pursued in the U.K. Unitel, the Angolan mobile phone provider where she was a 25% owner, sued Dos Santos in London late last year, claiming her Dutch company, Unitel International Holdings BV, had defaulted in 2019 on multiple loans issued by the telecom firm Unitel beginning in 2012. The company is seeking repayment of $430 million.
In sum, the assets frozen in Angola are probably worth at least $300 million, while the assets frozen or nationalized by Portugal and the Netherlands together would currently amount to about $1.3 billion, but the likelihood of Dos Santos ever getting them back is uncertain. Her homes, yacht, cash and other assets could be worth as much as $400 million, but there's also that $430 million in unpaid debt that Unitel is seeking.
Where will all these court cases lead? In August, Isabel's brother, Jose Filomeno dos Santos, was sentenced to five years in jail in Angola for transferring $500 million out of the country's sovereign wealth fund, which he headed. The justice system moves slowly in both Angola and Portugal, so no one is expecting a quick resolution to the cases against Isabel dos Santos.
"I'm forseeing years and years of litigation in courts, and while that happens the Angolan people won't receive the money that was taken," says Karina Carvalho, executive director of Transparency International Portugal. "That is why we need to take action on asset recovery and victims' compensation."
Asset recovery is typically a long shot. There is no guarantee that the prosecutors will prevail and release the frozen assets to the Angolan state. A 2014 report from the World Bank's Stolen Asset Recovery Program, aptly titled "Few and Far," noted that a huge gap remained between the assets recovered—just $147 million between 2010 and 2012—and the $20 billion to $40 billion estimated to have been stolen from developing countries each year.
When Angola first announced the charges against Dos Santos in early 2020, several news reports mentioned that the country would issue an international arrest warrant for her. So far, that has not happened. Dos Santos is able to move freely between Dubai and the U.K.
Still, life is not the same as it was. "She's been humbled, she's been cut down to size," says Oxford professor Soares de Oliveira. "It just shows that in a lot of these authoritarian places, economic power derives from political power, not the other way around. The moment you lose political power, you can be had. You're vulnerable all over the world."