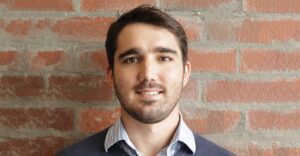 The world's most popular crypto, Bitcoin, in recent weeks has been on price levels not seen since the era of this financially dynamic market.
Investments from leading global business brands like MicroStrategy, Square, Paul Tudor Jones, MassMutual, and SkyBridge Capital are further indisputable evidence of such investors in the flagship crypto market.
Also, playing into the hands of Bitcoin bulls are macros showing majority Bitcoins in circulation are illiquid and therefore hardly accessible for buying, which points to a bullish investor sentiment as large amounts of BTC are being hoarded – which reduces sell pressure.
Although recent price actions reveal that as Bitcoin makes a new high, traders' significant amount of profit-taking usually takes place in form of a market correction, and that's why there is a significant amount of market volatility as sellers and buyers try to take hold.
Marius Reitz, General Manager for Africa, Luno Exchange, talks to Nairametrics on Bitcoin, Institutional Investors in Africa, trading XRP and its presence in Nigeria, amongst others.
What is your take on the news of U.S banks using Stablecoins as a settlement infrastructure?
This is a huge win for crypto and stablecoins as it adds credibility for mainstream adoption. In theory, stablecoins are meant to be less volatile than the completely decentralised cryptocurrencies like Bitcoin that many people are familiar with. One of the primary reasons people are drawn to stablecoins is to hedge against volatility during market dips – either in cryptocurrency or your own local currency. Another is that when selling crypto, you may want to keep your funds on the platform, ready for your next move.
How would you rate the presence of institutional investors in Africa, if low, why?
2020 was a record year for institutional investment, with MicroStrategy, Mode, Square and more moving huge percentages of their cash reserves into bitcoin in a bid to move away from fiat currency. However, the numbers in Africa are still small.
The presence of institutional investors in Africa's crypto market will help the industry mature and become more efficient, however, there needs to be a better understanding of crypto's use cases and regulation to attract this level of investor.
In recent months, there have been some strides made towards enforcing regulation by African countries. In July 2020, legislators in South Africa enforced rules for a national framework with FATF anti-money laundering standards, including but not limited to cryptocurrency. Countries such as Kenya, Ghana, Lesotho, Swaziland, Uganda, Zambia, and Zimbabwe have advised discretion regarding cryptocurrency usage while not actively banning them. Whilst regulation is beginning to pick up across Africa, further regulation throughout the continent is necessary in order to attain higher institutional investment in the region.
Is Luno still going to be trading XRP amid regulators' legal tussle?
Whilst we do not have any customers in the USA, we are aware of the SEC's lawsuit against Ripple and are monitoring proceedings very closely. However, with the case still in its infancy, it is too early to draw any conclusions. In the event of XRP being classified as a security, we'll reassess listing it on our platform to ensure we remain compliant with regulatory obligations in all our regions. For the time being, until there is more clarity on this issue, we don't intend to remove XRP from Luno.
Nigeria is one of your biggest markets, why haven't you established a strong physical presence here?
Nigeria is our fastest-growing market and we have a growing on-the-ground team in Lagos. Last year, we grew from 4million customers in May to 6million customers in December and thousands of these new users came from Nigeria, South Africa, Zambia and Uganda, resulting in a 100% increase in trading volumes during this period.
Hence, we are continuing to monitor the growth and are committed to providing the resources necessary for servicing the Nigerian market adequately. Ultimately, we promote open and equal access to cryptocurrency for everyone globally.
Why has Luno Exchange not broken into the top 20 exchanges in terms of trading volume?
It depends on which rankings you are looking at and which metric you are using. At the moment, we are currently ranked 14th on Crypto Compare's list of the top 287 exchanges, which factors in security processes, the quality of crypto assets listed on the platform and the strength of the company's team. Ranking aside, we recently hit the 6 million customers' milestone, with an expansive global reach, spanning across over 40 countries. To date, we have processed more than USD$14 billion in transactions.
Will Bitcoin fall to zero and why?
There has been no shortage of predictions of when Bitcoin is going to 'die'. According to 99Bitcoins' Bitcoin Obituary, which documents every instance a major press publication calls Bitcoin or cryptocurrency 'dead', Bitcoin has now died 395 times since 2010. Yet, it's still here. In 2020 alone, there were at least 13 predictions that Bitcoin would die and 3 of such already this year.
Our advice is that people should obtain independent and verifiable advice before making a decision on how to engage with Bitcoin and other cryptocurrencies. It's also important to be aware that Bitcoin and other cryptocurrencies are volatile. Price fluctuations can be violent and it's important that consumers don't risk inappropriate amounts of money (never invest more than you can afford to lose).